---
Braveheart Fishing Charters at Langebaan Lagoon is owned and operated by Anton Olivier. Anton has had 23 years experience in fishing and many of those years have been spent in Langebaan and surrounds. Anton has been recognised and awarded as the top fisherman in Langebaan lagoon and has taken countless people on fishing charters on the lagoon.

Braveheart is a 520 Supercat and is equipped with 2 x 50 HP 4-stroke Yamaha motors. All the necessary fishing equipment and bait is on board as well as all the necessary advice and experience, for novices and seasoned anglers. Women and children are welcome. Anglers are allowed to keep their own catch and fishing licences are essential. Please note that all the general conservation laws are strictly adhered to.

Langebaan Lagoon is a natural paradise and fish species abound in its pristine waters. Anglers can expect the following:

Summer months (September – mid May):
White Stumpnose
Elf / Shad
Cob / Kabeljou
White Steenbras
Cape Salmon / Geelbek
Yellowtail / Geelstert
Maasbanker / Horse Mackerel
Blacktail / Kolstert
Various species of shark
Winter months (mid May – August):
Snoek
Hottentot / Bronze Bream
Jakopewer
Deep Sea Charters can also be arranged for the following species:
Yellowfin tuna
Longfin tuna
Yellowtail
Rates:
General winter and summer fishing is charged at R700 per head. This includes all fishing tackle, bait and personal attention. Food is excluded and anglers are requested to bring their own.

Deep sea charters are charged at R7 000 for the boat per day with 4 anglers.

The summer months are very busy at Langebaan lagoon, so it is advisable to make a booking well before the planned time, so as to avoid disappointment.

For a memorable fishing experience, give Anton a call today.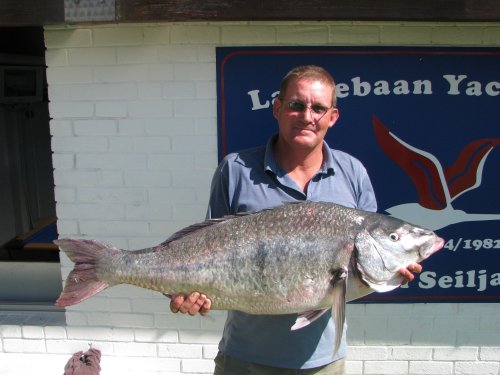 Anton with a record White Steenbras caught on Langebaan Lagoon in April 2009 (16.6 kg, on a prawn)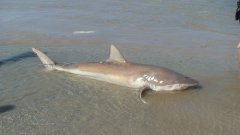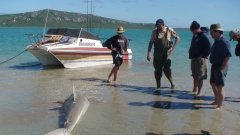 A variety of sharks can also be caught, including Bronze Whalers, as shown above