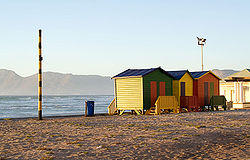 Muizenberg beach

Cape Town has a wide variety of beaches divided into three regions by the Cape Peninsula:
The sea in False Bay is about 6 degrees warmer than the Atlantic Seaboard and the West Coast.
False Bay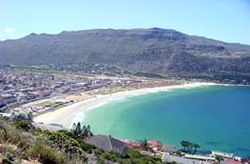 Fish Hoek beach

A long sandy beach runs more or less uninterrupted for the complete width of False Bay from Gordon's Bay to Muizenberg, forming the coast of the Cape Flats. Along the rocky Cape Peninsula, there are frequent beautiful beaches in between the mountains of the peninsula.
Atlantic Seaboard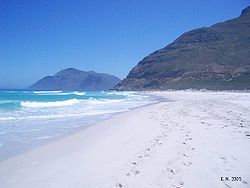 Noordhoek beach
The Atlantic side of the Cape Peninsula faces West and thus is popular for expensive homes facing the sunset views. There are many beautiful beaches below the mountains of the peninsula.
West Coast
The West Coast beaches are long, sandy beaches to the North of Cape Town. The wind and surf conditions make these beaches popular for surfing and kite-surfing.
http://en.wikipedia.org/wiki/Beaches_of_Cape_Town